ELA Test Operation Route – Phase 1
The route is designed specifically for community engagement with the shuttle operating adjacent to one of the highest utilized walking paths in the city.
ELA will be boarding passengers at 3 points along the identified route:
STOP 1: 50 Street at Ken Nichol Regional Recreation Centre main entrance
Boarding zone will be adjacent to the north side of the pedestrian pathway.
STOP 2: 50 Street at the Home Hardware Pedestrian Crosswalk
Boarding zone will be north of the crosswalk ensuring visibility of both traffic and passengers disembarking ELA.
STOP 3: Coloniale Way
Boarding zone will be located on 50 Street just south of Coloniale Way, by the access ramp.
All boarding zones will be marked with signage to communicate authorized stop locations to passengers utilizing the service.
| ELA Operational Schedule | Time |
| --- | --- |
| Thursday to Monday | Morning Start Time 11:30 AM-2:30 PM |
| Thursday to Monday | Afternoon Start Time 3:30 PM-6:30 PM |
BOOK NOW!
SKIP THE LINE AND BOOK ONLINE! 
We allow 5 advance bookings per-ride, however, the shuttle can hold up to 12 passengers. If all bookings are full for your desired date, please feel free to come as a walk-on during regular operating hours.
Advance bookings are available at Stop 1 & Stop 3. Trip duration is approximately 6 mins, one way.
NOTICE
Due to a mechanical issue with ELA's doors, making them unable to close properly, all operations in Beaumont, AB, are currently suspended. PWT is actively working with the vehicle manufacturer to resolve the issue. All rides are postponed until the doors can be fixed.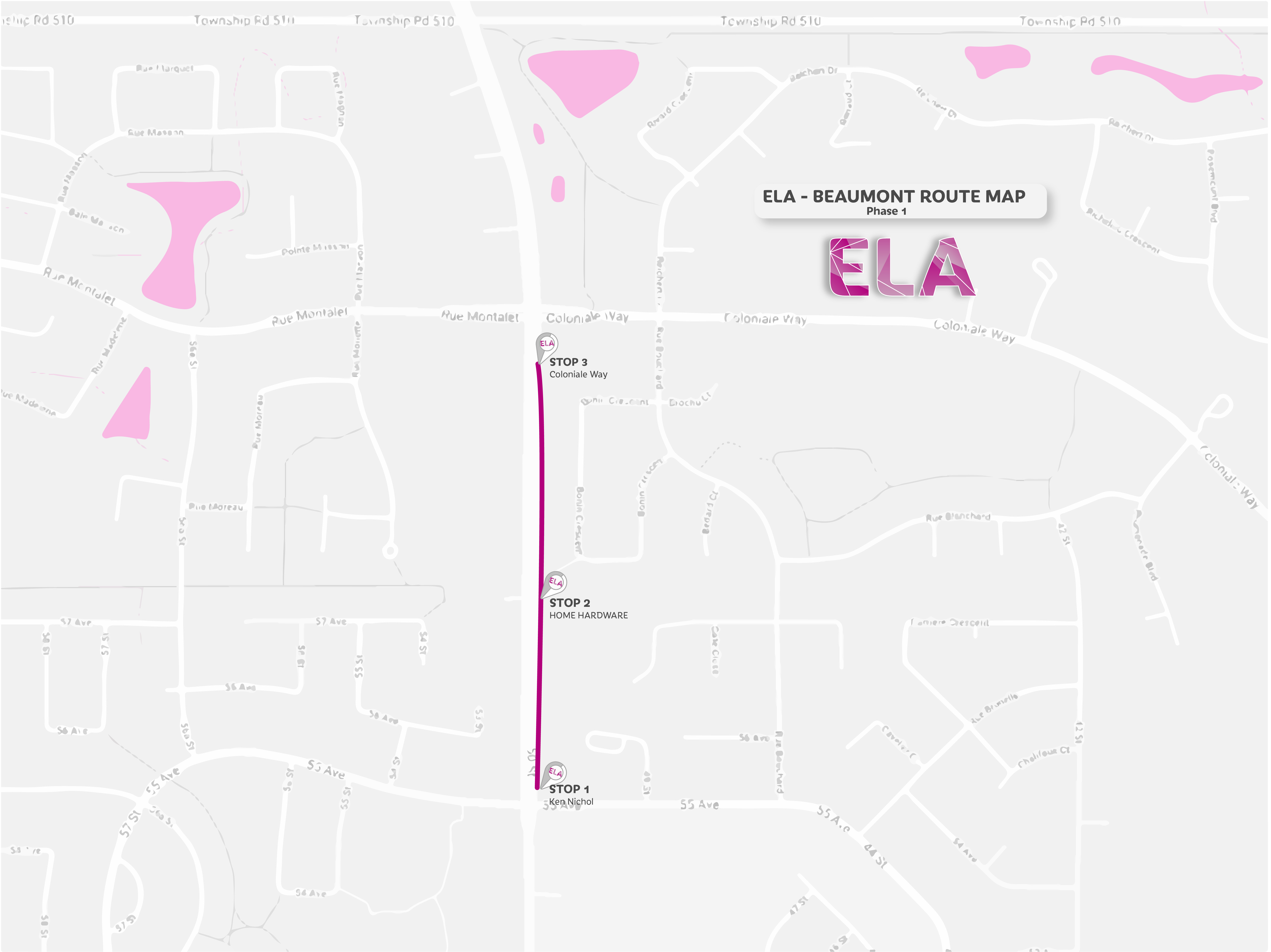 Safety is of the utmost concern during the operation of this pilot; the pilot site will be marked with signage indicating the Autonomous Vehicle trial is active and underway. ELA will be staffed with an operator to ensure adequate support for vehicle operations.