a new way
TO GET YOU PLACES
ELA is the first Electric Autonomous Shuttle Experience open to the public in Western Canada. Operated by Pacific Western Transportation (PWT), ELA demonstrates the future of transportation.
PWT showcases the latest in Electric Autonomous Shuttle technology. ELA is manufactured by EasyMile, one of the leading autonomous vehicle technology companies.
The EasyMile driverless shuttle has been deployed in over 20 countries across Asia-Pacific, the Middle-East, North America, and Europe.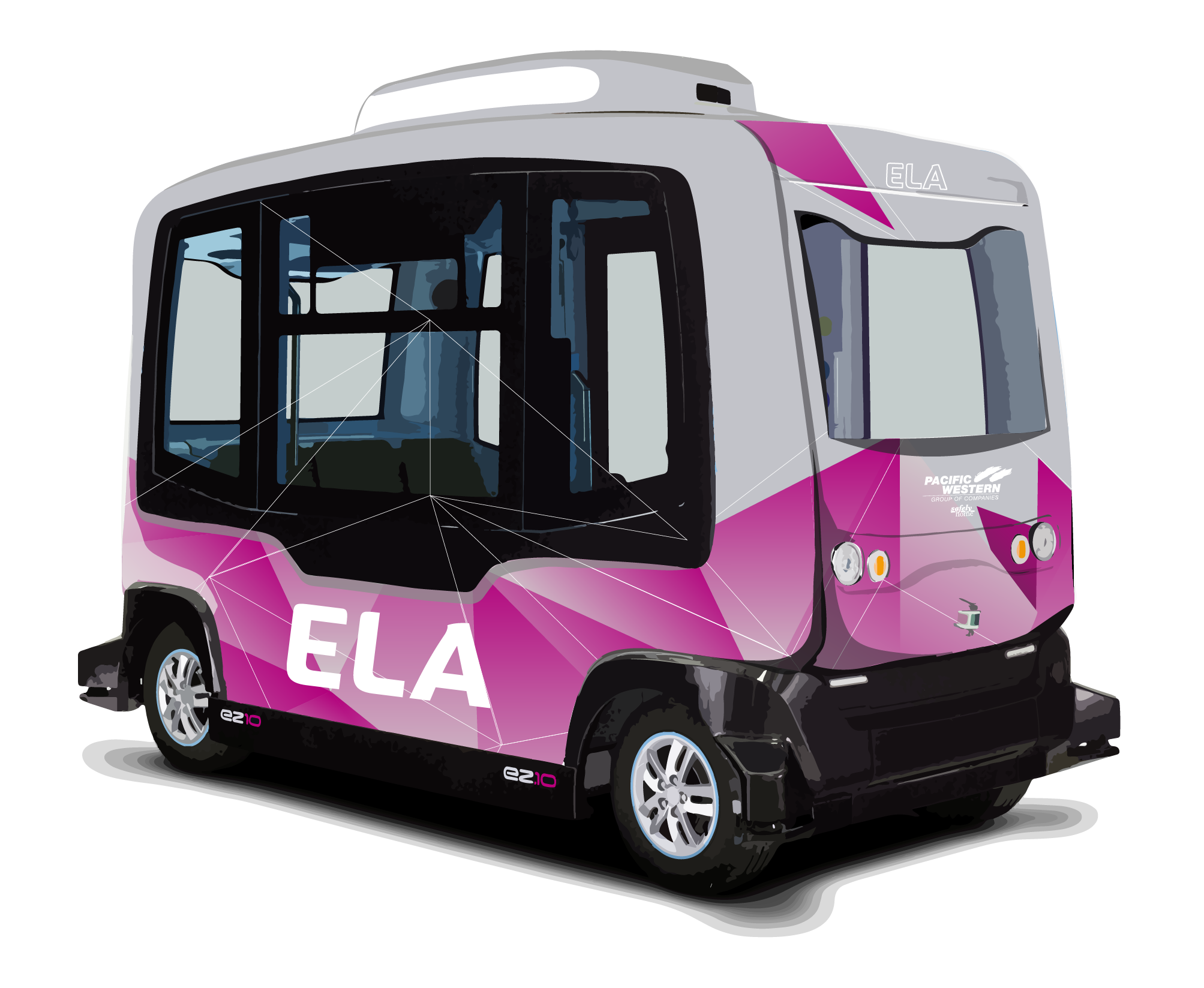 I'M INNOVATIVE
I operate 100% driverless and am powered by electricity.
I'M FRIENDLY
I can carry up to 12 passengers.
I'M ACCESSIBLE TO EVERYONE
I can board all passengers with my built-in access ramp
I'M VERSATILE
I can operate on fixed or on-demand routes
I'M ADAPTABLE
I can operate on existing roadways with no additional infrastructure required
I'VE GOT BACKUP
I'm supervised by Pacific Western Transportation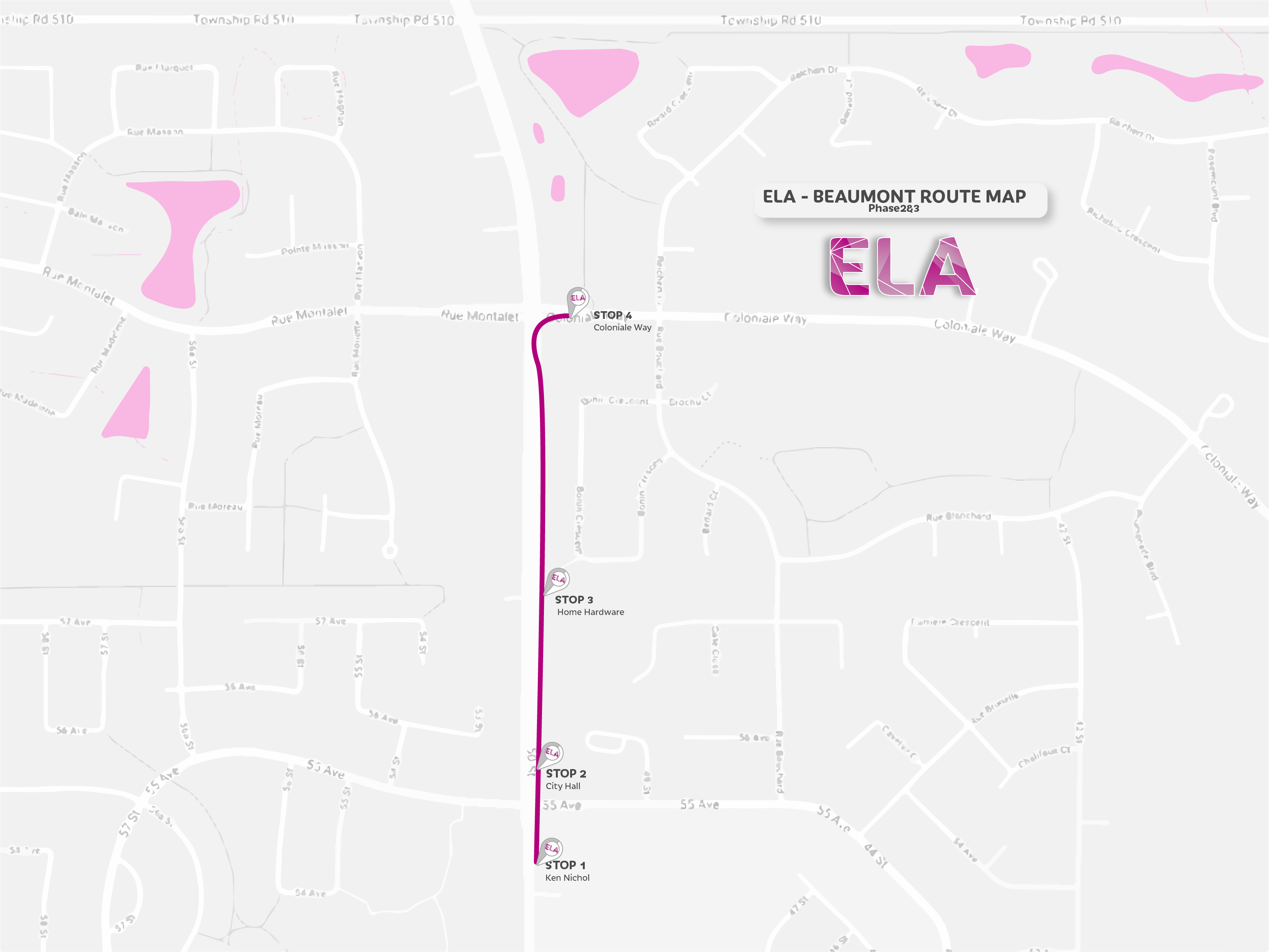 Beaumont, AB Pilot
May 16, 2019 – October 7, 2019
The route is designed specifically for community engagement with the shuttle operating adjacent to one of the highest utilized walking paths in the city. 
| ELA Operational Schedule | Time |
| --- | --- |
| Thursday to Monday | Morning Start Time 11:30 AM-2:30 PM |
| Thursday to Monday | Afternoon Start Time 3:30 PM-6:30 PM |
Past Deployments
Check out all the places ELA has been!
pacific western transportation
HISTORY AND INNOVATION
Founded in 1957, the Pacific Western Group of Companies (PWT) is the largest privately-owned people transportation company in Canada. Today, we offer comprehensive transportation services and solutions across the country, with over 4,000 employees and numerous business locations. Our operations are separated into four divisions: Motorcoach, Employee Transportation, Student Transportation, and Transit.
Our varied operations are unified by a company-wide commitment to the Core Values first established by our founder, R.B. Colborne. At the heart of these Core Values is an unwavering dedication to customer service and safety, as supported by our Safely Home brand.
With continuous innovation in the transportation industry, comes great opportunity to embrace and explore the potential of rising technological advancements. Introducing ELA, a Pacific Western Transportation sponsored pilot of autonomous vehicles in Canada.
the leader in transportation
technology
Pacific Western Transportation has long been a leader in transportation technologies and innovation. ELA is the next step in embracing the future of transportation. Working with the municipalities across Canada, Pacific Western Transportation will showcase the very latest in Autonomous Shuttle technology.
WHO?
Pacific Western Transportation

City of Calgary

City of Edmonton

City of Vancouver
City of Surrey
City of Beaumont
University of Calgary
University of Alberta
GOALS
Introduce ELA to the public

Position the Alberta Transportation industry as technology leaders

Assisting with the advancement of research opportunities for academia and industry

Community Engagement